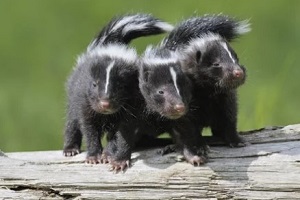 If your home is infested with bugs, rodents, or feral animals, then you may not know exactly where to turn. Although, at first glance, animal pest control and wildlife control may sound the same, there are key differences. In this review, we discuss the differences with each, highlighting how each is defined and who you should call based on your specific circumstances.
What Is Pest Control?
Pest control refers to the treatment of a pest infestation in and around your home. More commonly, pest control involves extermination techniques on small insects, bugs, and wasps. Specifically, it usually involves the treatment of the following:
Bees, wasps, and hornets
Carpenter ants
Mice and rats
Spiders
Certain rodents can also be treated with pest control services, although the removal of rodents typically does not involve extermination. Pest control services usually involve the treatment as well as preventive services; many pest control companies also provide cleanup services as well.
What Is Wildlife Control?
Wildlife control involves the removal of animals and vertebrate pests. This often involves trapping and removal techniques. Extermination services are not offered for wildlife control as most states have laws against killing most animal types. Specifically, wildlife removal services are typically offered for the following forms of wildlife:
Similar to pest control, wildlife control typically involves treatment, prevention, and cleanup services. Since many feral animals and rodents carry a greater risk of causing injury or illness, wildlife control specialists typically wear and use more protective gear and equipment.
How Are Pest Control and Wildlife Control Different?
There are several key differences between pest control and wildlife control. Notably, the services, types of animals, process of removal, and equipment and gear used are different. Below is a close look at these key differences.
The Service Types and Processes Are Different
Pest control generally involves extermination, whereas wildlife control uses techniques such as trapping and removal. Whether you need pest control or wildlife removal depends on the types of species that you need to remove. As mentioned, small insects and rodents can be handled with pest control. However, larger animals, birds, etc. may require an animal removal specialist.
Wildlife Control Focuses on Removal Without Harming the Animal
There are laws in place in most states that prohibit the killing of pests and animals such as squirrels, raccoons, skunks, and bats. There are also regulations pertaining to the relocation of animals with wildlife control. Since relocation is not typically required with pest control services, there are less legal obstacles and risks involved.
Additionally, startling or harming the animal could make the problem worse or cause injury to the animal or someone else. For example, skunk removal involves a careful process to help ensure the skunk does not spray. Since pest control typically involves the removal of insects, bugs, and very small rodents, extermination may be an option in most cases.
Wildlife Control May Involve the Use of More Specialized Equipment, Gear, and Processes
As mentioned, the removal processes involved with wildlife removal are often more dangerous and complex than pest control services. For this reason, wildlife removal specialists may wear more specialized gear and use more equipment.
Should I Choose Pest Control or Wildlife Control?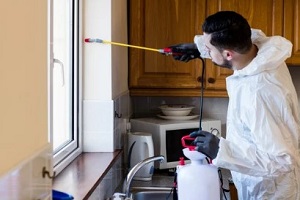 If there are laws that protect the particular species that causes the nuisance in and around your home, then you need to consult with a wildlife control specialist. If extermination is allowed, such as is the case with ants, cockroaches, spiders, and other insects, then pest control may be a more suitable solution.
Ultimately, the best way to choose between the two options is to consult with a specialist. In fact, many companies offer both pest and wildlife control services, and they can recommend the one you need during an initial call.
What Can I Expect During the Treatment and Removal Process?
The first step is for the specialist to come and visit your home or business for an inspection and provide a service estimate. From there, they can schedule a follow-up visit to deal with the concern, or they may be able to address the issue on the same visit. You only pay after the service is complete and your property is pest and animal-free.
Contact the Experts at Spartan Animal & Pest Control
Here at Spartan Animal & Pest Control, we offer a range of pest control and wildlife removal services. From dealing with issues of squirrels in your attic or spiders in your home, we are here to help, no matter the concern. So, why wait? Contact us today to get started.