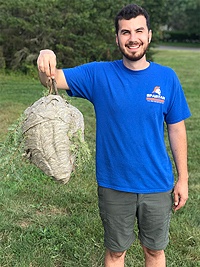 Spartan Animal & Pest Control is an animal and pest control company located in New Bedford, MA. Since 2012, we have been providing homeowners and their families with humane removal and control services to bring peace of mind and restore quality of life. When a wild animal finds its way into your home, or it becomes riddled with pests, it is our job to mitigate the damage and remove the unwanted visitors from your home.
About Spartan Animal & Pest Control
We have nearly ten years of experience working with homeowners to remove wildlife from their homes. Spartan Animal & Pest Control offers the removal of several animals, including bats, birds, raccoons, skunks and squirrels. We also work to control and remove pests such as carpenter ants, rodents, spiders, bees, wasps and hornets. At Spartan, the safety and security of families is our top priority, and work efficiently to restore it when it is compromised by an animal or pest.
Meet Corey Davis, Owner & Operator
Our animal and pest control specialist, Corey Davis, has been working with clients for over eight years, assisting with their unique needs and situations. ​​He provides effective, reliable and affordable solutions to all the communities in the South Coast & Cape Cod regions of Massachusetts. When you work with Corey, you can expect him to do it all — he facilitates the communication, provides the estimate and performs the control and removal work.
Get Started With Spartan Today
If you are dealing with an animal or pest problem in your Massachusetts home, do not hesitate to reach out to Spartan Animal & Pest Control. By working with Corey, your family will rest assured knowing that the issue will be solved quickly and efficiently. To get started, call (508) 504-9164 or schedule a service online to win the battle with Spartan today.