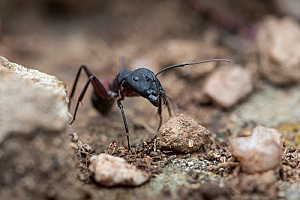 Carpenter ants are wood-destroying insects that can make you, your family, and guests feel uncomfortable due to their size. Removing carpenter ants can be difficult for homeowners, and it is best to trust a pest control technician for the removal and control of carpenter ants inside your home.
Regular Ants vs. Carpenter Ants: What Is The Difference?
Regular ants are noticeably smaller than carpenter ants. Carpenter ants also have a heart-shaped head, whereas regular ants have more of a circular head. As it pertains to behavior, carpenter ants are far more destructive and difficult to remove. Ant traps work for regular ants but do not work for carpenter ants.
As the name implies, they often build nests inside of wood. They do not consume wood as some other insects do, but they can do a fair amount of damage to the wood, leaving a material that resembles sawdust behind.
The Importance Of Carpenter Ant Control And Removal
Carpenter ants can cause a fair amount of damage to the wood inside your home, especially in areas that are less visible and may go unnoticed. If left untreated for an extended amount of time, carpenter ants can cause warping and other severe wood damage that requires extensive and costly repairs.
Our Approach To Carpenter Ant Control
The best way to deal with carpenter ants is through preventive measures. If carpenter ants enter your home, then it is important to promptly exterminate and remove them before they are able to cause significant damage to your home.
Seal-Out And Repellant
You can reduce the risk of carpenter ants infiltrating your home by sealing them out of areas where they frequent, such as around bathrooms, kitchens, and other areas where there are water sources. Carpenter ants can also enter into your home's foundation and cause damage. Repellant sprays can also help control and prevent carpenter ants.
Chemical Treatments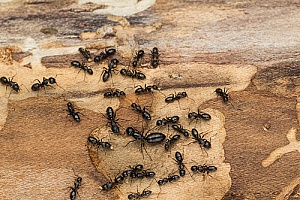 Chemical treatments are likely necessary if carpenter ant nests are found in or around your home. It is important to leave this to a professional for optimal safety. In addition, it requires a professional and experienced technician to determine where the carpenter ants are to ensure effective, targeted results. Our team knows how to use insecticides safely and without notable risk to homeowners.
Damage Repair
Carpenter ants can chew their way through wood that is a part of your home's foundation. After we take care of your carpenter ant problem, we can also repair wood, insulation, and other parts of your home that may have been damaged by the carpenter ants.
Contact Spartan Animal & Pest Control Today
Carpenter ants can be challenging to remove from your home if you are not professionally trained to handle the task. We encourage you to call our experienced team at (508) 504-9255 or schedule a service online today if you have issues with carpenter ants in and around your home. Our team can effectively and efficiently take care of your carpenter ant problem for you and take preventive steps to ensure future problems do not develop.