Summertime's hot weather increases pest activity. It's almost certain that you and your family will be enjoying more outdoor events now that warmer days are ahead. More insects and other pests, coupled with more time spent outside, means that you could see a sudden influx of bugs moving into your home.
Many of those bugs come with obvious risks – for example, wasps sting. But what about those bugs that you see but have trouble identifying? You might wonder how risky they are to both your family and home. In this article, we'll look at the top 10 summer pests and bugs to watch out for and discuss whether or not they should worry you.
Ticks
Ticks are tiny, nearly the size of a pin head, and can be a challenge to see. That's one of the scariest things about them – you might not even be aware that you have a tick while going on a hiking excursion or simply doing some yard work. For this reason, it's crucial to make a practice of checking oneself for ticks after spending any time outdoors.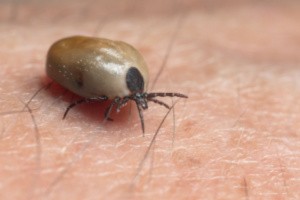 Ticks can transmit serious illnesses, including Lyme disease. The sooner you identify and remove them, the better your chances of avoiding transmission of a disease or chronic illness. When checking yourself or your loved one's for ticks, pay special attention to the hair and scalp, where ticks love to hide.
Mosquitoes
Perhaps the most annoying insect, mosquitoes can make it impossible to enjoy an outdoor summer evening without becoming victim to at least one bite – if not several bites all over. Mosquitoes are also known to transmit serious illnesses and can infect dogs with heartworms.
Choosing the correct mosquito control program can help reduce your home's local mosquito population. One tip we recommend is to remove any sources of standing or stagnant water, such as empty planters that have filled with rain. Mosquitoes are more likely to make their home in a place that offers plenty of stagnant water.
Bed Bugs
Bed bugs are notorious for infesting beds, blankets and comforters. They become a major household annoyance and leave excruciating, uncomfortable bites. However, it can be a challenge to eradicate bed bugs. You'll likely need to deep clean your house, including bedsheets and other textiles.
Bed bugs are a year-round problem, too. If you're vacationing and staying in a hotel, an Airbnb or other rental property that has been recently occupied by many different people, you have an increased chance of encountering them.
Millipedes and Centipedes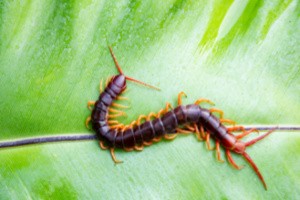 There are many different sizes and shapes of centipedes and millipedes. Although some are quite beautiful to look at, or even tempting to pick up and hold, it's best to stay away. That's because millipedes and centipedes are both venomous, which means that their bites can result in a severe allergic reaction.
Ants
Different ant species come with different behaviors. Some ant species, such as the sugar ant, are an annoyance because of how much time they spend searching your home for sweets. Other ant species, like the crazy ant (named in honor of the ant's somewhat frenzied behavior), are persistent and aggressive – and have even been known to gnaw through electrical wiring. Their love for chewing through electrical wiring is why they've been blamed as the cause of power outages in many areas. Meanwhile, the ferocious bite of a fire ant can cause tremendous pain, so keep an eye out for signs of their unique, raised anthills.
Termites
Termites are more than just an inconvenience. In fact, their ability to destroy the foundation and structure of homes adds up to billions of dollars in annual losses. Termites are wood eaters, and they eat the wood that supports the structural integrity of a home. You want to find termites before it's too late – the cost of fixing their harm can be costly and time-consuming.
Roaches
When it comes to the most reviled pests, almost everyone can agree that roaches are among the worst. Cockroaches are unpleasant home invaders, whether they are the German cockroach (which grows up to 5/8″of an inch in length) or the American cockroach (grows up to 2″ in length). They are potentially dangerous because they can spread disease, according to the World Health Organization.
Spiders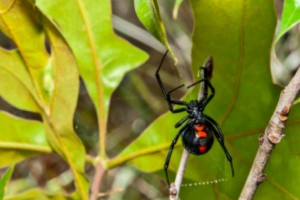 There are many different sizes and shapes of spiders. You might come across brown recluses, black widows, wolf spiders, black & yellow garden spiders and even common house spiders, depending on your climate and surrounding environment. Brown recluse spiders and black widow spiders are fatally poisonous. A black widow's venom is fifteen times more potent than a rattlesnake's venom!
Cicadas
Though they are not necessarily harmful, they can most certainly prove to be a nuisance! The only time cicada burrows emerge from underground is once every seventeen years, and 2017 was a particularly active cicada year. Given that, it's doubtful that we'll see more of them until at least 2034. However, when they do emerge, they can be a rather loud annoyance.
Wasps, Hornets, and Bees
Even while they are swarming, the majority of bee species are calm. Don't confuse a wasp, hornet, or yellow jacket with a bee, though. These insects look the same, yet they may be very hostile. Additionally, their stings can cause severe allergic reactions – some of which call for medical attention.
Services for Summer Pest Control
This summer, if you discover pests in your house or yard, get in touch with our experts at Spartan Animal and Pest Control today for cost-efficient and reliable pest control services. We are happy to provide you with a quote and also answer any questions or concerns that you may have regarding the process of pest elimination in your home.