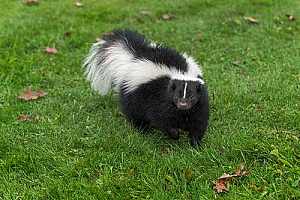 It can be incredibly tricky to remove a skunk from around your home without getting sprayed with the infamous foul-smelling odor they can produce. There may also be local laws that restrict the skunk removal process, so trusting a wildlife professional to remove skunks is strongly encouraged.
The Importance Of Skunk Removal
Skunks can damage the insulation and foundation of your home, dig beneath your home, and cause a lingering foul-smelling odor. Skunks not only produce poor smells when they spray, but they also communicate through smell and can put off scents throughout the year. As is the case with other rodents, skunks also have the potential to carry diseases, such as rabies, leptospirosis, and tularemia. Due to the risks, non-professionals should never approach a skunk and attempt to remove it.
Our Skunk Removal Services
Spartan Animal & Pest Control can remove skunks humanely, cleanup and disinfect (and deodorize) affected areas, repair insulation, siding, and other areas of your home that were damaged, and help with the prevention of future skunk-related concerns.
Skunk Control And Removal
Our removal technicians are trained on how to humanely trap and remove skunks in and around your home. Skunks pose a unique risk of "spraying" as a defense mechanism, which is not a concern with other rodents. Our professional team can do everything possible to prevent this from occurring. We also understand local and Massachusetts state laws on skunk removal to ensure a proper process is followed.
Skunk Cleanup And Disinfection
We do everything possible to prevent spraying when trapping and removing skunks. If the skunk does spray, we can help deodorize the affected area as well as clean up any mess the skunk leaves behind. This is an important step in our process as improper (or a lack of) cleanup could cause a health concern.
Prevention And Maintenance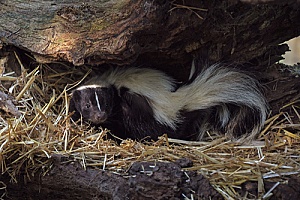 Once the skunk is removed, we then focus on preventive efforts to help ensure skunks do not find their way around or inside your home in the future. This may include a recommendation for regularly scheduled inspections, sealing entry points, making professional repairs, installing a wire fence barrier, and providing useful tips to keep skunks away, such as not leaving food (human or pet) outside.
Insulation Removal And Repair
Skunks are often more destructive than they may appear. They are nocturnal animals and do most of their damage at night when you are less likely to notice. They are known to damage or even destroy insulation and siding. Our team can properly repair damage to your home's insulation, attic, roof, and more, restoring the look, feel, and smell of your home.
Reach Out To Spartan Animal & Pest Control Today
The wildlife technicians at Spartan Animal & Pest Control offer skunk removal and cleanup services. We can also repair property damage and take necessary action to prevent skunks and other animals from hanging around your home. So why wait? Call us today at (508) 504-9255 or schedule a service online if you suspect there is a skunk around your home that needs to be removed.