When it comes to pests in the home, one of the most frustrating things about the issue is that it can feel like it attacks you from all sides. On one hand, you have unwanted visitors you must contend with on a regular basis. They may even be doing damage to the materials in and around your home.
And on top of all that, you must think about the cost to have them removed since they will not just pack up and go on their own. The good news is that pest control services likely cost less than you may have imagined. Still, in order to understand what you can expect to pay and plan your finances accordingly, you will need to learn more about what influences the cost and why some types of pests cost more than others.
What The Average Pest Control Costs Look Like
So, how much do pest control services cost? The answer is that, on average, you can expect to spend about $300. This is for a first visit, when the technician will not yet know anything about your situation, the type of pest you are dealing with or how far along in the control process you are.
Some initial visits can be cheaper, at closer to $150, and this visit includes a comprehensive evaluation of what your pest problem is, what is causing it, where the pests are living/nesting/entering from and how you can tackle the problem in the long term. At this time, the professional will also begin laying the first set of traps or other deterrents.
Many types of pests will fall within this standard, average range. These include many of the most common offenders, such as cockroaches, bees, dust mites, multiple types of beetles, fleas, moths, mosquitos, scorpions, mice, silverfish, spiders and ticks. Ants are some of the cheapest pests to treat in general.
Factors That Impact The Cost Of Pest Control Services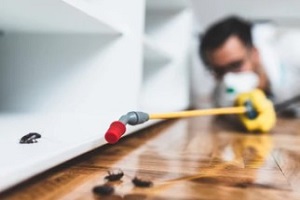 You will also have some say in how much your pest control service costs. If using environmentally friendly products is important to you, they may cost a bit more than standard issue chemicals. If you would like to maintain a regular schedule of visits, you may actually be able to reduce your cost.
In addition, there are some factors that you cannot control, such as the size of your home and property, which pest has taken residence there and how large the infestation is. These things add more complication to the situation, resulting in a higher cost. A reliable pest control service will work with you to stay in your budget.
Why Are Some Pests More Expensive To Control Than Others?
Some specific pests can cause a host of issues and are particularly resilient or difficult to get rid of, resulting in a much higher cost. Of particular note are bed bugs, termites and wood-boring beetles. Each of these types of pests can range from $1000 to $3000 or more to treat.
The reason is that these are not issues you can tackle on your own because the colonies of these particular bugs tend to be very large, deep and hard to penetrate. This can make fully getting rid of them a real challenge that is best left to the professionals—though it will likely take multiple visits.
Using A Maintenance Contract To Cut Down On Expenses
One of the best ways to make pest control more affordable is to set up a recurring maintenance plan. This may seem counterintuitive—asking a professional to show up more often might seem more expensive. However, the more frequently you have a pest control service stop by, the less each visit is likely to cost.
This gives you the advantage not only of repeated visits but an aggressive and consistent plan that can be carried out over multiple weeks or months to ensure that the intruders leave and do not come back.
Work With The Expert Pest Control Services To Ensure Your Pests Are Gone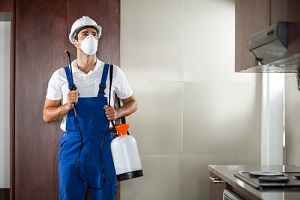 Whether you suspect that pests may be slowly invading your home but are not sure what you may be dealing with or you have seen pests making nests or causing damage and need help, it is important that you work with a reliable company.
The experts at Spartan Animal and Pest Control understand that each pest problem should be treated individually, with a customized plan suited to your specific home. We are happy to help you understand all your options to tackle your pest problem for good rather than putting a bandage on the issue. Reach out to schedule a visit so that you can begin removing these unwanted visitors from your home or property.