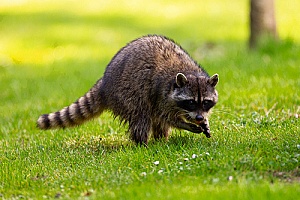 Raccoons can cause destruction by raiding your trash cans, eating your pet's food, and damaging your home's siding and insulation. If you are having problems with one or more raccoons around your home, then call a wildlife professional at Spartan Animal & Pest Control to properly deal with the concern.
The Importance Of Raccoon Removal
Raccoon encounters are not a cause for concern, but they may need removal if they are damaging your property, causing major disruptions, or displaying abnormal behavior. You should never approach a raccoon or attempt to kill or trap one yourself. In many areas of Massachusetts, you need a license to trap and remove a raccoon. Call a professional if you are having issues with a raccoon (or multiple raccoons) around your property.
Raccoons can carry disease as well. Notable diseases that raccoons may carry include but are not limited to Leptospirosis, raccoon roundworm, Giardia, and Rabies. Due to the health risk they can present, it is important to never approach a raccoon.
Our Raccoon Removal Services
Depending on where you live and the specifics of your situation, we may recommend raccoon trapping and removal. In other instances, we may be able to get the raccoon to leave on its own without trapping it. Our long-term focus is on the prevention of raccoons by removing anything that may entice them to hang around your home and installing wire fencing and repairing holes to keep them away.
Raccoon Trapping And Removal
Raccoon trapping is often the best method to remove a disruptive and potentially dangerous raccoon. Many states discourage trapping and relocating raccoons, however, so other efforts to keep the raccoon from causing problems may be tried before trapping and removing them. In many instances, finding out why they are coming around, such as a source of food or water, and removing it is all that is required to get the raccoon to go away. With that said, our highly trained team is more than capable to trap and remove raccoons if doing so is necessary.
Damage Repair And Feces Cleanup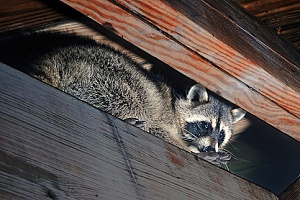 Raccoons often wreak havoc on homes, destroying property and leaving behind excrement. Our team of professionals can repair damage to your insulation, vents, roof shingles, and more. We can also deodorize and disinfect the areas where the raccoon lived or spent time. The cleanup process is also important as feces from raccoons can create a safety concern.
Prevention And Maintenance
You can help prevent raccoons from coming around your home by keeping your garbage cans sealed and repairing damaged entry points. You should also never feed wildlife. We recommend regular inspections and maintenance services, which may involve the installation of raccoon guards and taking other preventive measures to ensure raccoons are not enticed to come (and stay) around your property.
Get Started With Raccoon Removal Today
Our team understands how to properly deal with raccoons that are a nuisance. If you would like to learn more about our raccoon removal services and get started with the removal process, call our team at (508) 504-9255 or schedule a service online today.