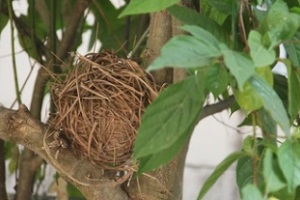 If you have noticed that a family of birds has built a nest somewhere on your property, you may be wondering if there is anything in particular that you need to do about it. The answer to that question depends on a number of factors, such as whether the nest is in a location that is problematic for you and what type of bird appears to be nesting in it.
If you have a bird's nest near your house, you have multiple options depending on how urgently you need the space, what for and how recently the nest was built.
Are Bird's Nests Harmful To My Home?
Bird's nests are not typically harmful to homes; however, birds can certainly cause damage if they choose to nest in particularly problematic places. Some types of birds build nests that are packed tightly into gaps or cracks in your home, or they may block important functions of your house like the gutters. Still, in general, a bird's nest on or near your home will not cause any problems beyond a temporary disturbance. That means that unless you need to use or access an area that has a bird's nest, there is not much that you need to do.
The Best Option: Minimize Disturbances
If the bird's nest is in a location where it is not bothering you or doing damage to your home, the best option is to leave it be. Try to minimize disturbances in the area so that the birds can grow quickly and healthily and then leave the nest, after which you can remove it. This may mean going out a different door to go to work for a couple of weeks, keeping your pets away from the area or turning off an outside light.
If you have construction or renovation projects planned in the area, consider postponing them so as not to disturb the nest. Most birds only use their nests for a couple of weeks; robins, for example, take about two weeks to hatch and then another two weeks to grow up and fly off. That is not too much time to dedicate to just waiting them out.
Should You Move The Nest?
If the nest is in a location where it is problematic (such as the joint of a door that you must open regularly), you may have no other choice but to move the nest; however, this should be a last resort. Most birds will abandon their nest if it has been moved. The best way to approach this process is to move the nest as little as possible. If you can keep it within a foot or two of its original location, the parent may still continue to use it. Keep an eye on the chicks or eggs in the nest, and see if the parent continues to come back after you have moved the nest; if not, you will need to call a wildlife rehabilitator to take the chicks.
When To Get Professionals Involved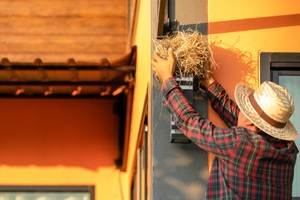 Moving or getting rid of a bird's nest can be tricky business, which is why many homeowners choose to leave the process to an animal control service that has more experience. Do not forget that birds, like many other animals, can serve as the host to a variety of unwanted pests such as ticks and mites.
If you do not feel comfortable coming into contact with a bird or its nest, or if you are worried that you will make a mistake while relocating the nest itself, be sure to call the experts to handle the problem instead.
As an added advantage, professional animal services can also help you to prevent this problem from occurring in the future by determining what made your particular location an ideal spot for a nest and changing it so that the birds will pick a more favorable spot next year. This way, you will not need to continually address the same problem as birds nesting in the same location in or on your home.
Trust The Experts To Help You Manage Unexpected Animal Visitors
If you have encountered a bird's nest at your home and you are worried about moving it, harming the chicks or getting it out of the way of your daily life, you do not need to take on the relocation effort on your own. The experts at Spartan Animal and Pest Control would be happy to help you get the bird's nest out of your way safely and humanely. Reach out to let us know what is happening at your home so that we can assist.