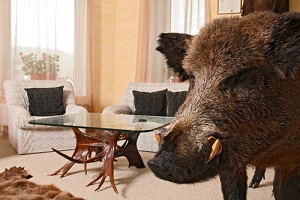 It is every home owner's worst nightmare — you walk into a room only to be confronted with an animal inside your home that is supposed to be outside. In this moment of panic, it can be hard to decide what to do.
The short answer is that you should leave it to the professionals, but what you do before they get there is important too. Keep the following guidelines in mind if a wild animal gets into your house as you stay calm and handle the unwanted intruder.
Dealing With Wild Animals In Your Home
Any animal in your home that you do not own as a pet is likely an unwelcome one, but some species are more likely to pay you a visit than others. The vast majority of pest control calls revolve around mice, rats, bats and squirrels.
However, an expert pest control service can also handle more significant intruders such as raccoons, opossums and skunks, which not only pose a bigger threat due to their size but are also often more likely to be carrying dangerous diseases like rabies. However, even if your issue is as small as a mouse in your pantry, you need not handle the problem alone.
Stay Away And Avoid Direct Confrontation
The first and most important step when you have encountered a wild animal in your home is to stay away. For some people, their first instinct is to charge the animal and shout at it to try to scare it off. This is unwise; a wild animal may answer aggression with aggression.
Ideally, try to enclose the animal in its current space. If it is in a room, close the door. If it has taken up residence in a cabinet, close it and place something heavy in front of it to keep it from popping open again. Only attempt these tasks if you feel that you can do so safely and do not need to directly cross the animal's path.
Locate How The Animal Got In
One of the greatest benefits of a pest control company is that they are familiar with the habits of animals and how they come to select and enter a particular home. If you found a wild animal in your house, it somehow got in there, which means that it can do so again if nothing changes.
A pest control company can help you locate the creature's means of entry and block it to rest easy knowing that your unwanted intruder will not return. You may be surprised at just how small a space is sufficient for a very large animal like a raccoon to get into your house!
Provide An Escape Route When Possible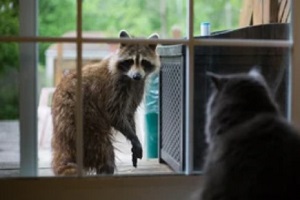 Sometimes, the wild animal that has entered your home may actually be able to escape again if you give it the opportunity. If it is currently inhabiting a room with an outside door or window, consider opening that exit to give the animal a chance to leave. Again, only do so if you can reach these points of entry without engaging with the animal.
Some animals may not notice that their way is clear right away, so consider tempting them with a slice of bread tossed toward their way out. Even if you do successfully assist the animal in escaping, it is still important to call a pest removal service so that they can ensure no other animals are in your home and that the problem does not happen again.
Leave It To The Professionals
The experts understand how to keep themselves safe from animal-borne diseases and capture animals in a humane and ethical way. Whether you simply do not feel confident trying to lead the animal out on your own or in a problematic location, rely on the pros to ensure your own safety.
Trust Spartan Animal & Pest Control To Remove A Wild Animal
Whether you currently have a wild animal in your home and need help or suspect that pests are taking advantage of your less-used spaces like your attic, a pest control service can help you remove the problem and prevent future issues.
At Spartan Animal & Pest Control, we believe in the humane removal of animals whenever possible, and we are happy not only to remove the problematic creatures but also any unwanted materials (like feces) that they left behind. Reach out right away if you have an animal currently in your home so that we can capture and remove it before it causes harm to anyone.