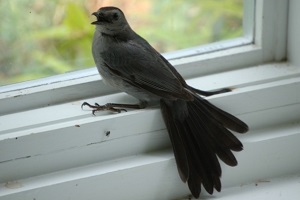 For many homeowners, having an animal intruder in the house is among their worst nightmares. Things can become especially spooky when the invader is a bird—with their quick movements and high mobility, getting a feathery visitor out of the house again can seem like an impossible task. If you are faced with a bird in your home and are looking for ways to get it to leave, consider the following steps, and remember that an expert animal control professional can help; you do not have to tackle this project alone.
Identify The Type Of Bird And Take Proper Precautions
The first step to work on when you are wondering how to get a bird out of your house is to try to identify the bird—or at least what type of bird it is. A songbird (commonly identifiable by a straight, pointy beak) will not pose much of a risk to your health and safety.
A raptor, however, can be much more dangerous. Raptors (like owls and kestrels) tend to have curved beaks and large talons that can easily cause injury if the animal feels threatened. Never attempt to grab a wild animal with your bare hands. If you think that the bird in your home may be dangerous, or if it appears sick or is behaving unusually, call a professional.
Clear The Room Of Threatening Items Or Individuals
If you would like to attempt to clear your home of the bird on your own, the first step is to clear the room that the bird is in of any problematic scenarios. This includes removing pets that may stress the bird out and make it harder to remove, as well as dangers such as lit candles that could be knocked over in the process.
Prevent Alternate Pathways
The next step is to close off all potential undesired escape routes. Block any path that you do not want the bird to take. This includes doors to other rooms, vents to the attic if the bird is small enough to fit and so on. It is also beneficial to close off routes to dead-end rooms (such as bathrooms) that do not lead to the outside; if the bird becomes trapped in this type of room, it can be even more difficult to get it back out into the open air.
Open Acceptable Escape Routes
Some routes in your home should be left open if they allow the bird to escape. If the animal is in a room with a door to the outside, open the door. Otherwise, a window is another option—just make sure that there is no screen, or if there is, that you remove it. Try to limit escape routes to only the most obvious, largest one; giving the bird choices could cause confusion and make it more difficult for them to escape.
Close The Blinds Or Curtains
The next best thing to do is to close any blinds or curtains, especially if they offer a view of the outside. Birds do not typically understand transparent materials, and they may become confused about how to leave the home if they are able to see outside through a window. Closing the blinds will remove this possibility and help them to focus on the intended path out.
Turn Off Lights And Create A Path
Next, darken the room. Turn off lights, change the blinds to dampen light, and turn off electronics. This helps the bird to see that the only area of brightness is the one leading outside, creating a clear path of escape. If a bird has entered your home at night, setting a flashlight outside or turning on your headlights can serve the same purpose.
Make Yourself Large
Finally, locate a sheet or other large, wide object and spread it out in your arms as wide as possible. This makes you a threatening, large target from which the bird would like to escape. This encourages the animal to move toward the illuminated exit, where it will hopefully leave your home without too much hassle.
Trust The Expert Animal Control Services To Help
If you have a bird or other animal in your home and either are unsure of how to remove it or do not feel safe doing so on your own, the experts are here to help. The professionals at Spartan Animal and Pest Control would be happy to help you clear your home of any unwanted visitors safely and humanely. Reach out to us online or over the phone at (508) 504- 9164 to tell us more about the situation and create a plan to remove the intruder as soon as possible.