Many homeowners will eventually run into the problem of ants invading their space. Carpenter ants especially can cause lasting damage to your home, so it's important to remove them before they establish their nests. While there are a variety of ant trap methods on the market, not all of them are effective on carpenter ants.
Here is why typical ant traps aren't effective on carpenter ants and solutions to getting rid of these dangerous pests.
What Are Carpenter Ants?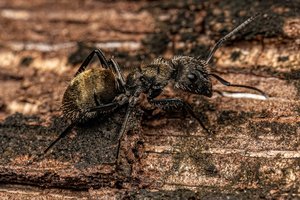 Carpenter ants are a common pest, varying in size from 1/2″ to 5/8″ long, and most are black but can also be a combination of red, brown, and black.
Carpenter ants chew and excavate wood to create tunnels inside to nest in. Their presence can cause damage to your home by undermining structural timbers and making the wood unusable for construction purposes. Carpenter ants also have a high tendency to infest damp areas, such as basements or crawl spaces, where they can become active during wet weather conditions. However, they may show up indoors at any time of year, depending on circumstances such as humidity levels or other environmental factors.
Carpenter ants primarily feed on protein, so they will seek out food sources such as dead insects or other small animals (e.g. rodents) but will also attack living insects if necessary. These include aphids which are sap-feeding pests found on certain trees like maple trees.
Why Ant Traps Aren't Effective on Carpenter Ants
The most common ant traps are liquid ant bait and bait stations. These generic ant traps work by luring ants with a sweet syrup that they're attracted to and then trapping them in an area so they can't escape.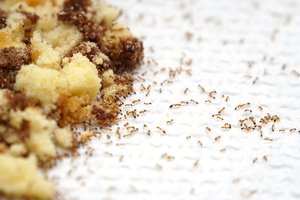 However, carpenter ants are looking for protein and grease, which is why you'll often see them in kitchen cabinets or around the stove, since those types of foods tend to be stored there. Since they primarily feed on protein, they're not attracted to the sugar-based bait found in common ant traps.
It's essential when dealing with an infestation that you are able to identify if the pests are carpenter ants or not, so you can quickly and efficiently take action. Carpenter ants can be easily distinguished from termites by their jointed antennas, versus termites' straight antennas. The best way to tell the difference between species of ants is that carpenter ants have a rounded thorax with one segmented petiole, while black ants have asymmetrical shaped thoraxes with either one to two segmented petioles.
How to Get Rid of Carpenter Ants
There are several different DIY methods you can use to get rid of carpenter ants. The proven methods that work well include boric acid, carpenter ant bait and residual insecticide dust.
Boric acid is an active mineral that has insecticidal properties, which makes it poisonous to carpenter ants and other insects. When combined with food attractant, it becomes a powerful carpenter ant killer.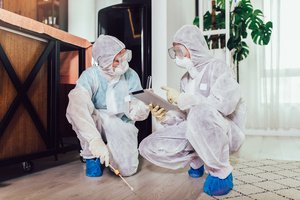 Another effective carpenter ant trap method is made from a non-toxic, non-staining solid bait that ants eat and bring back to the nest. This attracts other ants to eat it as well, eventually killing off the entire colony.
Carpenter ants are difficult to get rid of using physical removal and many times do not respond well to insecticides, unless they have come from an agricultural background. If you've got carpenter ants coming into your house through cracks or other holes, then it might make sense to try an insecticide instead of using an ant trap. Look for saw dust or debris outside of a hole to identify the carpenter ants' place of entering. Insecticide will kill the entire colony instead of just getting rid of one or two members at a time, but this can be a hazardous and time-consuming process to do on your own.
If you have a serious infestation, it's best to hire a professional pest control company because they will be able to determine the most effective treatment for your home.
Get in Touch with Pest Extermination Professionals
If you have a problem with carpenter ants, it is important to get in touch with a pest exterminator as soon as possible. Carpenter ants are dangerous and destructive, and if not taken care of in a timely manner, they can cause expensive damage to your home. The last thing that you want is for these pesky insects to continue eating away at your wooden frames.
Professional pest exterminators are specially trained to identify the source of the carpenter ants and neatly and efficiently remove them from your home for good. To ensure that your home does not suffer any further damage from carpenter ants, contact Spartan Animal & Pest Control today and have us inspect the area for signs of infestation.