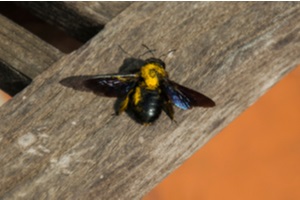 Spring in Massachusetts is the season when people feel like they can breathe in crisp, warm air for the first time in what seems like forever. Sudden spring bugs, however, may temper that springtime joy. Wintertime is mostly insect-free, which makes the arrival of springtime pests feel even worse. It's important that you work with a pest control company to tackle spring bug infestations as soon as you notice them.
Not All Bees Are Pests
One insect known to herald the beginning of springtime is the bee. Not all bees are threats to the home. Honey bees cause no problems and will go about their business of pollinating and making honey. Carpenter bees may pose more of an issue. While they are not a direct danger to humans—male carpenter bees have no stinger—they can bore into the wood of your home and then lay eggs. This may damage your woodwork or even the structural integrity of your home. Look for signs of carpenter bees by checking for sawdust. If sawdust is found, you should address the problem right away to avoid further damage.
Aggressive Yellowjackets Begin To Appear
Yellowjackets are not bees but rather wasps, and this category of insect poses much more of a threat than their bee counterparts. Yellowjackets are notorious for their aggressive behavior and may even attack unprovoked, stinging multiple times. You may be able to resolve a yellowjacket infestation with bug spray, but these insects also make their homes in the ground—and you might not notice until you step on it or run over it with a lawnmower. A pest control service can use specialized aerosolized gas to completely fill the tunnels of the nest, even underground.
Paper Wasps Often Leave Bothersome Nests
Although paper wasps are less aggressive than yellowjackets, they can sting when provoked. This is not an uncommon occurrence, since paper wasps build their nests in easily overlooked spots like door hinges. You may recognize their nests as large, bulbous papier-mâché-looking orbs or combs.
If you discover paper wasps but they are not in your way, it is fine to leave them, since they help to pollinate. For paper wasps that pose a threat, a pest control service can help you dispose of large nests by tranquilizing the wasps before removal. This ensures that you stay safe during removal and is less traumatizing for the animals.
Various Hornet Species Can Cause Danger
Hornets are another stinging insect, and both the European and bald-faced variants may sting if disturbed. The bald-faced hornet can even spray venom from their stinger into your eyes, so it is important to contact pest control if you notice hornets making their nest in your home. Even though hornets can be helpful pollinators, some require population control because of the harm they inflict upon honeybee populations. If you notice hornets, you can use insecticide as a temporary solution until a pest expert arrives.
Ants May Begin To Infiltrate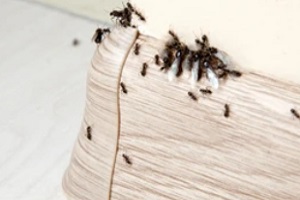 Ants are one of the more irksome insects that can invade your home. You may not realize you have an ant problem until you notice several of them all at once. Tiny black ants are a species infamous for crawling in a straight line across your kitchen floors or countertops. Although ants are disruptive, their harm tends to be limited to food spoilage. Carpenter ants, on the other hand, can do massive damage to your home's structural integrity and require professional extermination as soon as possible.
Professional exterminators often use evidence like frass (bug droppings and piles of sawdust) to locate the ant nest, then puff boric acid into the tunnels to eliminate the colony over time. Failure to remove all ant nests and eggs—one of the risks of attempting the extermination process yourself—could encourage the ants to bore deeper into your home. From there, extermination becomes a much more complex and difficult process and may take multiple attempts.
Trust The Experts To Help You Remove Pests As Soon As Possible
Whether you need help verifying a home bug infestation, or you've already found the source of a bug problem but aren't sure what to do next, do not hesitate to reach out to the professionals. The experts at Spartan Animal and Pest Control would be happy to help. They will go over your options, arrive with the tools necessary to remove troublesome springtime insects and ensure that those same insects never return. Reach out today to schedule an appointment and get started.