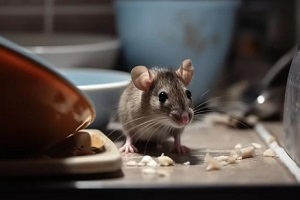 Rodents can be a common issue for homeowners and businesses alike. Rodents can cause property damage, spread diseases, and become a nuisance. One of the best ways to prevent a rodent infestation is by identifying and securing common entry points.
This article will explore the most common rodent entry points and provide tips on securing these vulnerable areas.
Understanding Rodent Behavior
Rodents, such as rats and mice, are known for their ability to squeeze through the smallest of openings. A mouse can fit through a hole the size of a dime, and a rat can squeeze through a hole the size of a quarter. They are also excellent climbers and can jump up to a foot high, which means they can exploit vulnerabilities in your property's structure from the ground level to the roof.
Common Rodent Entry Points
Cracks and Holes in Walls or Foundations: Rodents are crafty creatures that can access buildings through even the smallest openings. They often exploit cracks and holes in walls and foundations, particularly where utility pipes and vents enter the building. To prevent this, regularly inspect your property for gaps or cracks, paying special attention to areas around utility installations. Once identified, these openings should be promptly sealed using caulk or foam sealant, creating a robust barrier against rodent entry.
Doors and Windows: Doors and windows, especially if they have gaps underneath or around them, are inviting entry points for rodents. These gaps might seem insignificant to us, but for a mouse or rat, they are equivalent to an open invitation. Applying weather stripping can effectively seal these gaps, making it difficult for rodents to squeeze through and invade your home.
Vents: Rodents are excellent climbers. They can scale drain pipes or wall vines to reach roof vents, turning them into convenient gateways. To prevent this, consider covering your vents with metal screening. This simple step can considerably reduce the likelihood of a rodent finding its way into your home via the ventilation system.
Roof and Fascia: Damaged roofing or fascia boards are like a red carpet rolled out for rodents. These damages create easy access points for them to infiltrate your home. Regular roof inspections for signs of damage, followed by immediate repairs, can help keep your home rodent-free. Remember, a small leak might lead to significant problems if not addressed promptly.
Garage Doors: Garage doors that are not properly sealed can unknowingly welcome rodents. Ensure the door is flush with the ground, leaving no space for rodents to squeeze through. If there's a gap, consider using a rodent-proof door sweep. This device forms a robust barrier that rodents cannot gnaw through, keeping your garage and home safe from these pests.
Utility Lines: Rodents use utility lines as their personal highways, running along them to reach various parts of your home. Installing rodent baffles on these lines can be an effective solution. These devices, when correctly installed, prevent rodents from traversing the lines, disrupting their path, and keeping them away from your home. Understanding these common entry points and taking appropriate preventative measures can significantly reduce the risk of a rodent infestation in your home. Remember, the key to effective rodent control is prevention.
Securing Vulnerable Areas
After identifying potential entry points, it's time to secure these areas. Here are some tips:
Seal Cracks and Holes: Use a combination of steel wool and caulk or foam sealant to seal small cracks and holes. For larger gaps, consider using metal sheeting or cement.
Install Door Sweeps: Close the gap between your exterior doors and the ground with door sweeps.
Cover Vents and Pipes: Install metal vent covers and use caulk to seal gaps around pipes entering the building.
Trim Overhanging Trees: Trim tree branches that hang over your roof to eliminate a potential 'bridge' for rodents to enter your property.
Regular Maintenance: Inspect your property for signs of rodent activity and potential entry points. Prompt attention to these issues can prevent a small problem from becoming a full-blown infestation.
Reach Out to Massachusetts' Rodent Removal Professionals
A proactive and comprehensive rodent control strategy is key to safeguarding a building from unwanted rodent infestations. It is important to understand rodents' pathways to access a home or business and to take the necessary steps to seal those openings.
While many of these paths are initially inconspicuous, they can be identified with sufficient observation. All windows, doors, and pathways in walls and ceilings should be inspected for vulnerabilities that could allow rodents in.
Doing so will go a long way towards keeping your space free from unwelcomed rodent guests! Assemble and maintain proper traps, and use professional help if needed; these tips and diligent inspections should help keep your residence or business pest free.
Just remember: when it comes to rodents, accurately identifying the problem is step one on the road to keeping your property safe and secure! Have you discovered a wildlife animal or pest around your home?
If so, then contact our wildlife removal specialists at Spartan Animal and Pest Control today. We take pride in helping members of our community with wildlife animal removal and use only safe, humane, and legal removal techniques and practices.