Skunks are notorious for the strong and foul odor they produce when they feel threatened. Additionally, they can wreak havoc on your lawn and trash cans, along with posing a threat to your pets. Consequently, we recommend safely removing a skunk that has made its home on your property. This guide discusses natural ways to encourage the skunk to leave and when to call in expert wildlife specialists to have the skunk removed if it does not leave on its own.
Should I Remove a Skunk From My Property?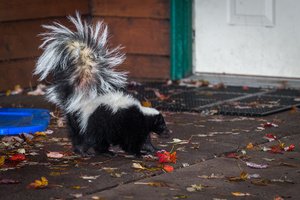 You should strongly consider having skunks around your property safely removed by a wildlife control professional. Otherwise, skunks may create a health hazard, cause property damage, and release foul odors that are difficult to remove. Specifically, the downsides to not removing a skunk around your property include:
They can carry the rabies disease
They can destroy your lawn and trash cans
They spray a foul odor when threatened
They may attract other pests
It is important to work with a wildlife removal specialist when removing skunks from around your property as there are laws and regulations that must be followed. You should never attempt to kill or inhumanely trap skunks. A wildlife professional can ensure skunks (and other rodents and pests) are safely and properly removed with a greatly reduced risk of the skunk spraying or causing damage or injury.
How to Keep Skunks Away From Your Property
The best way to deal with skunks is to prevent them from coming around in the first place. There are a range of preventive measures you can implement. Notably, these preventive measures include:
Treating your lawn for white grubs
Spraying a pepper-based repellent around vulnerable areas
Protecting your garden with a metal fence
Using a hinged metal or wooden bin for garbage bags
Cleaning your garbage bin regularly to avoid odors that can attract skunks
By reducing odors around your home, preventing white grubs, and protecting your garden, you can greatly reduce the risk of skunk infestation. Of course, despite preventive measures, skunks may still find their way to your property.
How to Remove a Skunk From Around Your Property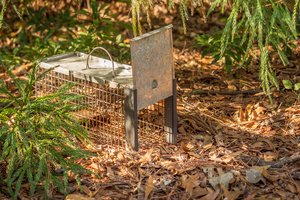 The skunk may leave on its own if you make its living conditions less favorable. It is crucial to ensure you do not take any measures that harm the skunk or scare it because skunks spray when they feel threatened. This means you should not directly confront the skunk or let your pets around it. Instead, you can try the following three methods to safely drive it away from around your property.
Create Noise and Light Around the Skunk's Den
Like most rodents, skunks prefer dark areas where they feel safe. You may be able to get a skunk to leave by shining a light around their den. This especially works well if the skunk has made its home underneath your shed or inside your crawlspace. Additionally, if possible, create noise around their habitat, such as by playing a radio on the floor above its den.
Place Safe, Non-Toxic Animal Repellent Around Your Home
First and foremost, you should not use any substance that may be harmful to the skunk as this could violate local laws and could also pose a threat to other animals in the area, including your pets and your neighbor's pets. However, there are some non-toxic natural repellents that may entice the skunk to leave on its own. These include scented soaps, black pepper, and lavender sachets.
Clean Your Lawn and Around Your Property
As mentioned, skunks are drawn to trash and bugs that are typically in lawns (i.e. white grubs). By keeping your lawn clean and only putting the trash out right before pickup, you may be able to get a skunk to leave the area naturally. It may also help to clean around the perimeter of your home.
When to Hire a Wildlife Specialist for Skunk Removal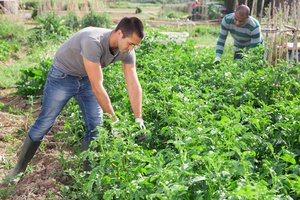 If the skunk does not leave on its own, then you should contact a wildlife removal specialist to have it safely removed. You should not attempt to cage the animal on your own as there is a high likelihood of the skunk spraying, harming itself, and/or harming others. Your wildlife specialist can ensure it is not harmed and is safely and humanely relocated to an approved area away from your home.
Contact the Skunk Removal Pros at Spartan Animal & Pest Control
Do you have a skunk around your home? If so, then contact the wildlife removal specialists at Spartan Animal & Pest Control. We are able to safely remove skunks and other pests and rodents from your property and adhere to all local, state, and federal laws and regulations.